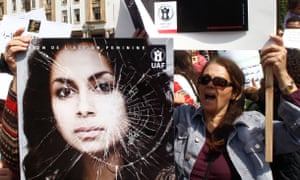 Moroccan authorities are investigating the death of a teenage rape victim who set herself on fire after her alleged attackers threatened to publish photographs of the ordeal, a rights group has said.
The Moroccan Association of Human Rights said an autopsy after the girl's death last week showed that she was pregnant.
The AMDH Marrakesh head, Omar Arbib, said "eight young men abducted the girl," then 16, last year from Ben Guerir, 43 miles (70km) north of Marrakesh, "and then took turns to rape her".
Her family lodged a complaint and police arrested seven suspects, who were referred to the prosecutor for questioning, Arbib said. An eighth suspect was later arrested.
However, according to Arbib, the prosecutor granted the suspects a provisional release. After being freed, he said, they threatened the victim, saying they would "publish pictures of the rape which they had taken with their mobile phones unless she dropped the complaint against them".
"This is the reason why last Friday she set herself on fire," Arbib said.
Source: Teenage rape victim dies after setting herself on fire in Morocco | World news | The Guardian